Modern Music's Midas
Andrew Lloyd Webber's smash hits include Jesus Christ Superstar, Evita and Cats. They guy could even make a hit out of the Reykjavik telephone directory.
If Mozart were alive today, he might earn more royalties than Andrew Lloyd Webber. Otherwise, no composer in the history of music has been as successful as this British boy wonder. A millionaire by the age of 20, Lloyd Webber now, not yet 40 years old, is a multimillionaire and getting richer by the day. His company is called "The Really Useful Company" and certainly lives up to its name. Seemingly gifted with the Midas touch in music, almost everything Andrew Lloyd Webber puts down on manuscript paper turns to gold.
No fewer than three of his musicals are currently running in the West End of London: Cats has been playing to full houses since 1981, Starlight Express has been sold out every night since 1984, and The Phantom of the Opera, which opened in the fall of 1986, is already booking after 1988. A black-market ticket currently commands a price of nearly £100! Another musical, Les Miserables, is enjoying a successful run at Lloyd Webber's own theatre, the Palace, although Lloyd Webber himself cannot claim authorship in this case. But he is no longer merely king in London's West End; he is establishing a new capital for his empire in New York, where Cats and Starlight Express and Phantom are now running. Indeed the Lloyd Webber empire extends all over the world: Cats is now playing in around 20 countries, productions of Phantom are being planned in Tokyo and Vienna, his earlier smash hits Jesus Christ Superstar and Evita are still popular pieces as is Lloyd Webber's first major creation, Joseph and His Amazing Technicolour Dreamcoat.
On a recent visit to Stockholm, Lloyd Webber looked in on Cats and offered his opinions on the production. He spends a great deal of time every year travelling around the world and checking the various productions of his musicals. He got burned a few times in the beginning of his career and has been both careful and restrictive since then.
100 percent control
"Maybe I should start working with film instead", he sighs. "There you have 100 percent control over all performances of the original".
It was also to gather all the rights under his own control and better enable him to check up on standards that Lloyd Webber started The Really Useful Company. He is now able to study the price of his own stock in The Financial Times, since the company was introduced on the London Stock Exchange in 1986.
"We did it because we needed money to restore our Palace Theatre in London, where we have now uncovered the original beautiful Victorian interior. It also gives us respect and a solid position, as well as an opportunity to work on a larger scale. It's good, for example, if we decide that we want to buy a theatre in New York".
Respect and a solid position are clearly important to Lloyd Webber. The true proof of his acceptance by the Establishment came in the spring of 1985 when his Requiem - following a celebrated premiere performance in New York - was played for the first time in Britain at Westminster Abbey. Wicked tongues wagged: "Now he's bought his own church too!" But it wasn't just the nobility of the setting that lent status to the première. The ticket receipts went to the victims of the bombing at the Conservative Party Convention in Brighton in 1984. Not only did Prime Minister Margaret Thatcher attend the Requiem concert along with several members of her cabinet, she also wrote a foreword for the program. And former prime minister Edward Heath wrote a favourable review in The Financial Times.
Lloyd Webber is a remarkably skilled promoter of himself and his music. In fact, there are those who think that what Andrew and Julian (Andrew's cello-playing younger brother) are really best at is public relations. They suggest that Andrew hires the best directors, choreographers, set decorators and singers in order to cover up his rather meagre talent.
While a man as fabulously successful as Lloyd Webber naturally attracts such charges, there is some truth behind the criticism. The renowned Broadway director Harold Prince was called in to produce ... [sorry, that's all I have]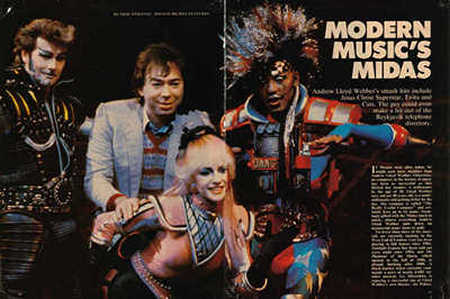 Cast and creator of 'Starlight Express' (Photo: IBL/Rex Features)
Erik Näslund, Scanorama Magazine, April 1988