The young music master in his magnificent prime
In 1957, aged nine, Andrew Lloyd Webber composed a song for a musical he was staging in his model theatre. His parents politely clapped after the show and the score was carefully put away in a bottom drawer.
They had little idea that this week, 33 years later, the song would be sung before the Queen as part of a musical which would break British theatre records for advance ticket sales. Lloyd Webber smiles when he thinks back, while tinkering with its orchestration in Aspects of Love, his latest show. The past month, however, has been short on smiles as the show has suffered a stream of setbacks.
Roger Moore, its proposed star, walked out four weeks ago. Last week technical stage instructions were wiped off a computer during a power cut and, to cap it all, the opening has been postponed for five days to allow more polishing.
There are few, though, who doubt that a happy ending awaits Lloyd Webber and its new venture. It has already taken £4m in advance sales and is booked out until 1990. Even if the critics hate it (as they often do with Lloyd Webber productions) it cannot be called a failure.
Lloyd Webber maintains an air of confidence. He has good reason: aged 41, already a self-made multimillionaire, he feels his most productive years are still to come. He can rightly call himself Britain's biggest cultural export. Last night 18 productions of his shows were running in capitals around the globe, from Tokyo to Toronto. One, Cats, is now the most successful musical of all time. Next month it will have completed eight continuous years in London, returning an annual profit there of £1.7m; world-wide it has grossed £500m.
Aspects, however, marks a new direction. It is both a musical and a play set to music. There are no grand operatic effects (as in Jesus Christ Superstar), no roller skates (Starlight Express) and no legendary figures (Evita). Instead the piece, based on David Garnett's little-known 1955 novella, is an intimate, complex romance about five inter-related lovers in the south of France. Lloyd Webber has again shown he is not prepared just to stand still and rake in the cash.
Born in South Kensington into a middle-class musical family, his father was to become director of the London College of Music and his mother was a music teacher. Both Andrew and his brother, Julian, remember money being in short supply.
Aged nine he already showed precocious talent, writing lyrics and programmes and staging shows by himself. There was never doubt where his future lay.
At 12 he went to Westminster School, where his enthusiasm for South Pacific (he had seen the film 12 times) and The Sound of Music was greeted with suspicion by his contemporaries. He was something of a loner. "Andrew was a boy who did not need the company of others. I don't mean he was unpopular. He just got on perfectly well on his own", remembers the headmaster's wife.
It was at home that he was given the best possible grounding for his career. Julian recalls: "There were all sorts of sounds at home, from Bill Haley to Prokofiev, and everything in between. Dad was very tolerant".
Even at that stage his family were aware that Andrew was going places. "His success has not surprised me in the least", says Julian. "We always expected it, as he had so many musical ideas. What did surprise me, and still does, is the extraordinary amount of money he has made". Lloyd Webber's personal fortune has been estimated at around £20m.
After Westminster, Lloyd Webber won an exhibition to Magdalen College, Oxford. But in April 1965 he received a letter that changed his life. It was from Tim Rice, a junior assistant at EMI records, who had heard that Lloyd Webber wanted a lyricist. Lloyd Webber was so inspired by Rice's skills that he left Oxford after just one term to team up with him.
Their first collaboration, The Likes of Us, a musical about Dr Barnado's, was a flop. It was their next work, Joseph and the Amazing Technicolour Dreamcoat, in 1968 that laid the foundation for their successful partnership. After that they approached David Land, an agent and entrepreneur, with the idea of starting a pop museum. He rejected this but agreed to pay them £30 a week, to allow them to concentrate on writing. Lloyd Webber was able to stop working for his father in the library and Rice no longer had to work occasionally as a petrol pump attendant.
"Andrew was nervous, introverted but very intelligent", Land says. "He always seemed to know the answers before the question". But the Rice/Lloyd Webber partnership still had a long way to go.
Lord Delfont, Lord Grade and Bryan Forbes all turned down Jesus Christ Superstar. It was not until it became a hit in America in 1970 that their careers took off. Evita followed in 1976, but then their temperaments and ambitions clashed and the partnership split. A low point was reached in their relationship when Rice resigned from Lloyd Webber's Really Useful Group because he did not feel he was being allowed to contribute.
Lloyd Webber more than survived the break-up. His one-woman show, Tell Me On A Sunday, appeared in 1980; Cats in 1981; Song and Dance in 1982; Starlight Express in 1984 and Requiem Mass, a full-scale classical piece, the following year. His only failure was Jeeves, with lyrics by Alan Ayckbourn, in 1975.
Over the past 20 years Lloyd Webber has almost single-handedly achieved his aim of reviving the British musical. In the process he has drawn a measure of criticism. His relentless energy for work and his quest for perfection have sometimes led people to accuse him of intolerance, rudeness, even meanness. Cameron Mackintosh, a former co-producer, explained: "He is a complex character; generous, but, goodness, he also knows how to drive a hard bargain".
Land, who was bemused when Lloyd Webber insisted on 12 different pressings for the recording of Evita, says: "After the first six I was blowed if I could find any blemish. Most people find him temperamental and difficult because he is a perfectionist".
Lloyd Webber admits he will scream and shout when things go wrong, but insists that it is a passing reaction. However, there is a lack of ease and skill in dealing with people that raises hackles. Mackintosh says: "Andrew does have an unfortunate manner which does make people misunderstand him. He never means to be rude although he can seem so". The criticisms, of course, are also the reasons for his success: a tunnel-like intensity centred on his music that allows no compromise.
The results of that success have brought him a 1,200 acre Berkshire estate, a house in the south of France, a penthouse flat in Belgravia, as well as an apartment in New York's Trump Tower, one floor below Stephen Spielberg.
But success has had its sour side. Intrusive stories have appeared in the tabloid press abut his second wife, Sarah Brightman, for whom he wrote Phantom of the Opera. More than once he has resorted to litigation.
Next week the pressure will be on again. "Of course I will be worrying, but at the end of the day I know I have given my very best and that is all I can do", he says. "People ask me why I go through all this agony. The reason is because in the end I love the musical theatre more than anything I do".
It might help him to think back to the opening night of Cats on Good Friday in 1981. Then he was so fraught with worry that he and Mackintosh, the co-producer, went to his (and TS Eliot's) local Belgravia church to pray.
"Judy Dench had to pull out and there were a mass of other problems", says Mackintosh. "We thought we had a disaster on our hands". God, it seems, is on Lloyd Webber's side.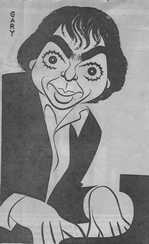 Variations on a theme of success:
the new show, Aspects of Love, is already a sell-out
Profile, The Sunday Times