First night rapture for Aspects of Love
Andrew Lloyd Webber confounded the sceptics and West End rumour-mongers last night when Aspects of Love, his new £2 million musical, was given a rapturous first night reception at London's Prince of Wales Theatre.
Two curtain calls and a stage showered with flowers demonstrated that Britain's most commercially successful composer, who has amassed a fortune of more than £100 million, had not lost his golden touch despite less than enthusiastic advance notices and a run of misfortunes.
"People holding tickets needn't think that they have paid for nothing. It is wonderful, fantastic" said the film producer, Michael Winner, as friends mobbed Lloyd Webber and the show's director, Trevor Nunn.
If the reception was a little less than the pandemonium that has often accompanied Lloyd Webber first-nights - other hits like Cats and Phantom of the Opera got half a dozen curtain calls - this was because Aspects of Love is radically different from the composer's previous work.
Instead of spectacular sets and lavish choruses, the musical, based on David Garnett's 1955 novella of the same name, is what Lloyd Webber calls "a mould-breaker".
It is a tender and complex love story, hinting at incest and lesbianism, set in the South of France in the Forties and Fifties. Lloyd Webber says it is his most operatic work to date.
Previews in the last fortnight ran to three hours and there were reports that audiences found the show too long, boring and too big a break with the composer's typically spectacular musicals.
Five weeks ago the James Bond actor, Roger Moore, left the show saying that his voice was not up to a major singing part. Stage crew demanded extra payments to cope with the 50 scene changes and Lloyd Webber put the first night back five days, saying that the musical was not ready. There was also desperate talk that he wanted to add another song.
In the event there was no new song, but last night's performance was clipped to just 2 hrs 20 mins. A spokesman for the composer denied that this was drastic surgery and said it was "the usual trimming that comes about in previews".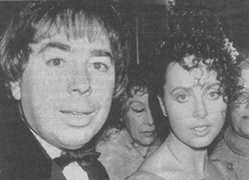 Andrew Lloyd Webber with his wife, Sarah Brightman, at last night's reception
Nigel Reynolds