Aspects of Love conquers all
"Do you know what I'd really like to do next?" Andrew Lloyd Webber replied to the inevitable question. "I want to write a book about Victorian architecture. It's always fascinated me" (Simon Tait writes). He may be serious, but it was the reply of a man very much relieved to know that his chief work in life, making hit musicals, has not stuck a widely predicted wrong note.
The London first night audience had received Aspects of Love with enthusiasm and a five-minute standing ovation. The principal singers, Michael Ball, Ann Crumb and Kevin Colson, the understudy who took over from Roger Moore, got particularly warm receptions.
At the party afterwards, in the Waldorf Hotel, Lloyd Webber relaxed for the first time in 18 months. Later the critics gave their verdicts: "Has the maestro of the great western musical pulled off another multi-million smash hit?" Jack Tinker asked in the Daily Mail, replying: "He has achieved something far more subtle, possibly even more rewarding". The Daily Telegraph enthused: "Certainly Andrew Lloyd Webber's best so far". Our own Irving Wardle wrote of his deft craftsmanship.
On the strength of the box office for Aspects - sold out until next March to the tune of a record £4.5 million - Lloyd Webber could write a pantomime about St Pancras and still have the audience humming the songs weeks later.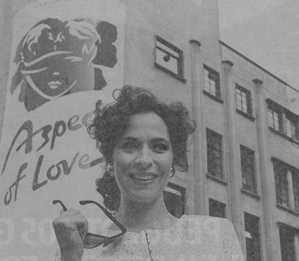 Smile of success: a happy Ann Crumb, leading lady of Aspects of Love,
outside the Prince of Wales Theatre yesterday (Peter Trievnor)
The Times, 19 April 1989