A baker a driver his wife and her lover
Jean Giono's slight but charming "La femme du boulanger", began life in 1935 as an episode in a novel. Marcel Pagnol made a quite acceptable move from it shortly afterwards, and it subsequently became a play. More than 30 years later, Pagnol's film was brought to the attention of the American stage producer David Merrick, who was, as ever, searching for material which could be plundered for Broadway.
Stephen Schwartz, whose "Godspell" had been very successful off-Broadway, was engaged to write the music and lyrics, and Joseph Stein (of "Fiddler on the Roof") provided the book.
"The Baker's Wife" began its pre-New York tour in Los Angeles in May, 1976. During the tour, the show lost first its director and then its leading man (the Israeli star, Topol). It closed out of town. Had not Trevor Nunn, years later, kept hearing one of its songs, Meadowlark, sung by actresses who auditioned for him, that might well have been the end of it. But captivated by the song, Nunn sought out Schwartz and Stein, with the result that a revised version of The Baker's Wife has now opened at the Phoenix Theatre.
A small Provençal village loses its daily supply of fresh, warm bread when the middle-aged baker's young and pretty wife runs off with the local aristocrat's young and pretty chauffeur-cum-handyman, and the baker goes to pieces.
Giono's rather twee story is too dauntingly Gallic to translate easily into American show-biz terms, especially as neither Joseph Stein's oddly stilted dialogue nor Stephen Schwartz's dull lyrics arise above a level of amiable banality.
Schwartz's score is an eclectic mishmash, the energy of its ensembles occasionally disguising a lack of originality which the solo numbers all too clearly reveal. This composer's creative flame burns but fitfully, and his librettist's padding of a very thin plot hardly makes for an exhilarating evening in the theatre.
What it all adds up to is a not unpleasant, but faintly dull, anodyne affair, staged, for the most part competently, by Trevor Nunn in cute, kitschy décor by John Napier whose dough-splashed bakery is the most effective element in his mobile village. After a slow first half, the show livens up at the beginning of Act II, only to lapse again well before the end.
Alun Armstrong is splendid as the baker whose life revolves around his young wife. He puts his songs across in a not too gravelly baritone, and sustains an engaging characterisation throughout. As the young lovers, Sharon Lee Hill and Drue Williams are easier on the eye than the ear: both have voices more powerful than mellifluous.
The expected assortment of French village types, among them argumentative neighbours, the rationalist schoolteacher, the priest and the mayor, are brought to life by an excellent supporting cast led by James Villiers, John Bennett and Jill Martin who, as the café proprietor's wife, begins and ends the show with the most attractive song in the score. But, really, "The Baker's Wife", who kneads it?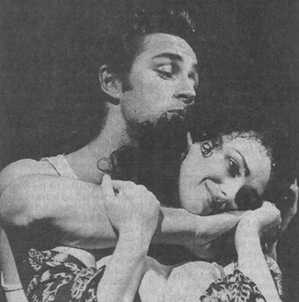 Drue Williams and Sharon Lee Hill in "The Baker's Wife"
(Picture: Alastair Muir)
Charles Osborne, The Daily Telegraph