Well-bred and good pedigree
From Provence via a Broadway flop to West End success? Hilary Finch on the prospects for The Baker's Wife
London has seen the films, now for the musical. The Marcel Pagnol revival could hardly have come at a better time for Trevor Nunn, Stephen Schwartz and Joseph Stein. With Jean de Florette and Manon des Sources still resonating in the memory, their show The Baker's Wife comes to town, fragrant with the aroma of fresh-baked bread, Gauloises and village gossip.
The good-as-gold, home-baked Schwartz and Stein musical is based on an episode which Pagnol himself pinched from a novel by his contemporary Provençal, Jean Giono. A village without bread for many weeks welcomes a new baker and his young and beautiful wife. Wife runs away with younger man; baker takes to drink; the bread, just like the spring, dries up. The village has to learn that the staff of life is made only out of the generosity and forgiveness ... Pagnol's sacramental little fable became a film called La Femme du Boulanger in 1938, and was subsequently directed as a play by Jérome Savary in 1985.
But, eight years before that, back in the US, Schwartz and Stein, high on their respective successes of Godspell and Fiddler On The Roof, had watched their Baker's Wife flop. It even failed to reach New York. Why should Trevor Nunn want to get entangled with a failure?
Peering into a model for Othello (television shooting for Nunn's Young Vic hit starts the day before Baker's Wife opens), Nunn explained what had attracted him. "One song! I heard someone sing 'Meadowlark' at an audition in New York, and I thought it was ravishing. I listened to the recording of the show, and realized there was exquisite music in it, strongly identifiable with Schwartz's melodic simplicity, something more European than American.
"Schwartz hasn't yet tried anything approaching the complexity of Sondheim, but his sheer facility is at Sondheim's level. And the show seemed to have become something of a legend: everyone had heard of it, but no one had seen it. It had just disappeared on the road ..."
Schwartz and Stein had, as it turned out, begged for it not to go to Broadway. Their original intentions had been suffocated in changes forced upon them by artists and directors who had wanted the simple tale developed way beyond its scope and scale.
What is more, everyone was staging backstage-story musicals such as Chorus Line, On Your Toes and 42nd Street. Even Drood, in the end, turned out to be about the theatre. The Baker's Wife did not fit the bravura formula.
Nunn, though, welcomes the opportunity at last to do a mid-scale musical on an intimate, and affordable, human scale. Like Pagnol himself, he relishes the harsh dialect, the cruel humour of the village people. "It's simple in the way that Chaucer, Maupassant, the Britten of Peter Grimes can be simple".
To those familiar with Nunn's work (Les Misérables, Nicholas Nickleby), it will come as no surprise to learn that the main attraction was the central role played by the village itself: "the multiplicity of venal, self-seeking people who hold the piece together. Had it not been for one incident, they might have missed the opportunity of living a better way. And, as in Les Misérables, questions raised about such human issues and responsibilities can have a far greater impact on audiences than a great deal of political theatre, which simply preaches to the converted".
The show has, not surprisingly, substantially changed in its transatlantic flight. Schwartz wanted from David Cullen's orchestrations "something with its own distinctive sound, something very French which would reflect the three types of music I've drawn from: Provençal folk music (recorder, shawm, harp); French music-hall, the Piaf sound (accordion and rinky-tink piano); and the impressionistic romance of a Debussy and a Ravel (harp, flute, clarinet, viola). And I insisted on an open pit, with no feeling at all of electronics: after all, they barely have electricity in the village!"
For the first time, Schwartz feels, his and Stein's original conception of the show has been realized. He has written five new numbers specially for this production: a wryly ironic chorus about human idiosyncrasy and intolerance; a buzza-buzz gossip chorus; a double-edged female romance-ensemble; and a baking duet which would be equally at home in Fiddler.
When it comes to change, Nunn has acted as both restraint and inspiration: "Stephen was willing to throw absolutely anything out. I had to prevent him from chucking out gold".
Schwartz, on the other hand, knows when Nunn has seen more clearly:"There's a song for the Baker himself, for example, which has been in the show from the beginning. It's called "If I Have To Live Alone", and it was always a bit hit. I was rather surprised when Trevor said it just wasn't right. He spotted the exact point at which the melody should go up instead of down; and I simply translated his emotional response into a technical, physical one". The Baker's Wife is still an evolving creature.
As it shifts from Ipswich, where it opened last month, to the less flexible proscenium space of London's Phoenix Theatre, Pagnol's fable is being tuned to yet another key. The plane-dappled shade remains, the set itself has more room to expand backwards, and Nunn is working on making the whole thing more continuous, more cinematic, as café turns round into church, and church swings into bakery yard.
David Toguri is busy expanding the movement, making the dance both more complex and more fastidious for big numbers like "Bread", Baker's answer to "Food, Glorious Food".
In Ipswich, the three-hour show was not without its longueurs. Nunn refuses to cut until after the previews: "People in Ipswich and in London simply don't laugh at the same things. We'll have to se ..."
Meanwhile, in a small office in Covent Garden, Schwartz is working on some lyric changes in Act One's stag-song, "Look For the Woman" to make it more anecdotal, more an expression of the villagers' own chauvinism, less of an excuse for them to launch into a Broadway number. He listens thoughtfully to my own criticism of a rather sluggish serenade and promises to leaven its sentiment with more mischief. "Yes. I'll look into that ..."
• The Baker's Wife has its first preview at the Phoenix, Charing Cross Road, WC2 (01-836 2294: credit cards 240 9661) tomorrow and it opens on November 27.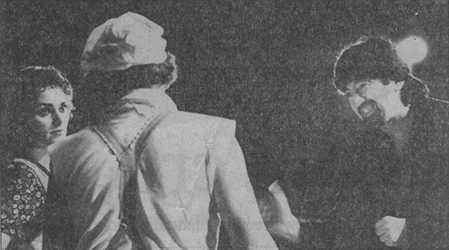 Baker's wife, baker and director:
Sharon Lee Hill (left), Alun Armstrong and Trevor Nunn at rehearsals.
Hilary Finch, The Times, 16 November 1989