Lloyd Webber
Aspects of Love
Phantom of the Opera
Starlight Express
Cats
Les Miserables
Miss Saigon
Metropolis
The Baker's Wife
Time
Stars of the Stage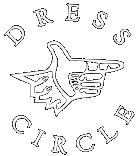 Bread and Roses
Rhoda Koenig on The Baker's Wife
Happy hour begins in the café of a Provençal village, and soon turns out to have been seriously misnamed. As the inhabitants gather, the sensualist marquis, rationalist schoolteacher, puritanical priest, embittered spinster, feuding neighbours, surly couples, and local clochard sing of how happy life would be 'If It Wasn't For You'. A rare breath of garlic-scented realism enters the musical theatre - not only we, it seems, realise France would be a much better place without the French.
Into this disenchanted village comes Aimable Castagnet, the new baker the town has been pining for, and his much younger and very beautiful wife, Geneviève. 'I'm a married woman, and my husband's a good man', she tells Dominic, the muscular handyman with his own ideas about the staff of life. But he notices, as we do, that she hasn't said, 'I love him'. Dominic's serenading and importuning finally get Geneviève to run off with him, delighting the petty, spiteful villagers with this rich source of gossip. But they soon discover that broken hearts have serious consequences: the depressed baker stops producing bread.
To get the obvious objections out of the way - The Baker's Wife is not going to wipe out anyone's memory of the French film it's based on (if you have seen that move, you won't have forgotten it). These watered-down personalities, using the contemporary American musical-comedy idiom in accents closer to the north of England than the south of France, are somehow more unpleasant because they are less repulsive and grotesque. The 15 years in which the show has been revived and revised (it closed during its original pre-Broadway tryout) might, you would think, have given Stephen Schwartz a chance to write music with more panache than these noodling hurdy-gurdy tunes, and have given his friends a chance to point out some of the more atrocious crimes among his lyrics ('ambitious-delicious', 'selfish-shellfish', 'different' sung over two syllables, then three, in the same song, a gruesome little number that lives up to the title 'Merci, Madame'). The show could lose about 20 minutes.
But, like Aimable's magical bread, The Baker's Wife amounts to more than the sum of its parts. At a time of grindingly sexy, mechanical, or portentous shows, it's a nice musical, which is no bad thing. In the second act, the charms of Joseph Stein's deft book take hold - one's impatience with the stereotyped characters gives way to an appreciation of their function in its fairy-tale quality, its vision of a mean little place transformed by a visitation from True Love, the emotion, as a Frenchman said, that is as rare as ghosts. Alun Armstrong, as the forlorn baker, is the play's strongest human asset. His joy in the wife who makes him feel 'like a kid of 43 again' melting into bewilderment, denial, anguish, and disgust is pitiful and terrible to behold, both in its violence and in its restraint.
As Geneviève, Sharon Lee Hill, is physically and vocally, a real doll. It's too bad, though, that director Trevor Nunn didn't make her into more of a real person, with her hair not quite so coiffed after three days and nights of passion and her singing more concerned with telling a story than producing pretty sounds. Drue Williams, who is hopelessly bogged down in macho-pop mannerisms, lacks the ingenuousness that would have made him a more plausible rival to Aimable; it would be more touching if Geneviève left him because she found him inadequate rather than insensitive.
Still, this isn't a show for or about young people; its charm lies in its very conventionality. In the neat Act I number, 'Look for the Woman', the men advise us to cherchez the femme at the bottom of every bad business, then smirkingly confess their eagerness to always look for a woman, no matter how much trouble she is. They get paid back in 'Romance', an Act II fandango in which the wives give the men's personal appearance, savoir-faire, and sex techniques a great big raspberry. It's all quite schematic, this something-for-the-boys, something-for-the-girls in the audience approach, but that shouldn't deter anyone from enjoying the sinuous pitter-patter of the first song, its musical line like a lech padding along in brothel-creepers, or the hearty it's-so-awful-I'm-laughing good nature of the second. There was plenty of misogyny and misanthropy in the Fifties, too (the period The Baker's Wife seems to have emerged from); it was just expressed with more of a shrug and a softer edge before Stephen Sondheim cornered the market.
My only qualm at the heartwarming nature of this enterprise occurred at the curtain calls. As the house rose to cheer this tale of a beautiful young girl's love for a much older man, and there stood wave upon wave of expensively preserved gents with their huge-eyed, tiny-hipped, make-up-plastered cuties, one couldn't help wondering if in fact it is such a good idea to please your audience.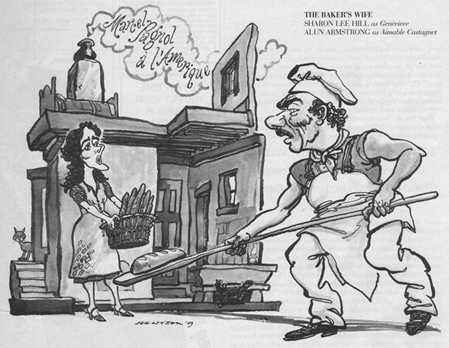 Rhoda Koenig, Punch, 8 December 1989