Nights out on the tiles make Lloyd Webber's kitty happy
The show has no plot. The set is a rubbish dump. The lyrics are second-hand and everybody said it would flop. Yet this week it enters the history books as Britain's longest-running musical.
On Friday night the lights will go up in London on performance number 3,358 of Andrew Lloyd Webber's song-and-dance show Cats, based on T S Eliot's poems.
Translated into 10 languages, performed in 13 different countries and running simultaneously in 10 different productions around the world, it can claim to be the century's greatest theatrical success.
Almost 4m people have seen it in Britain, grossing £51m for the New London Theatre, and a tidy sum for Lloyd Webber and the 210 private backers who kept faith in him when the showbiz world predicted failure. Last night the touts were still on Drury Lane selling tickets at twice their face value.
Worldwide, the financial rewards have been even greater. The show has grossed £240m in the United States, £30m in Toronto, £26m in Japan and is still playing to full houses.
Cats has become a theatrical encyclopaedia of bizarre statistics: 28 miles of adding-machine paper have been used to calculate its returns; more than 21,000 batteries have been drained by the 32-member cast in their microphones; and 3,300 seats in the auditorium have been worn out during its eight-year run.
For many, the show becomes an obsession. One man has seen it almost every Saturday for the past five years. He always brings chocolates and flowers for the cast.
Susanne Wellauer, a 21-year-old student, has seen it 21 times in the last year. "I don't exactly know why but I just want to return again and again".
But it has also had its detractors. Some have called it repetitious and ascribed its success to the charabanc trade who don't have to worry too much about understanding the lyrics.
One woman in the audience screamed for the show to end because it was cruel to cats. Another wanted to buy one of the cats. It was explained that they were just actors.
When Cats was launched in May 1981, it seemed to be heading for disaster. Judi Dench pulled out with a leg injury 10 days before opening. The previews had to be extended. Then there was a bomb scare on the first night.
Furthermore, nobody would back it financially. Lloyd Webber eventually had to mortgage his house to prevent the show being pulled. It more than paid off: his composer's royalty alone earns him £3m a year.
"It was a nightmare at the time. There was so much negative reaction. People thought I was terminally barmy to try to do a song-and-dance show with a dead poet's lyrics, directed by Trevor Nunn, a Royal Shakespeare director, in a theatre which was built as a conference centre", said Lloyd Webber.
On the first night somebody shouted "Rubbish" from a balcony and Lloyd Webber and Cameron Macintosh, his producer, thought his critics were going to be proved right.
"It was only later we realised it was a drunk being funny about the set, but it almost gave us a heart attack at the time", Lloyd Webber recalls.
There is now only one person left from the original cast, Steven Wain became a Cat when he was 21 and his life for the past eight years has revolved round the show. He has even married a Cat.
"I have stayed because it is such a happy show. I suppose I will stay until I stop enjoying it", he said.
The previous record for the longest running musical was also held by Lloyd Webber, for his show Jesus Christ Superstar, which closed in 1980. There are no plans to wind up Cats.
Perhaps the most bizarre statistic of all is that it has made the poet's widow a multi-millionaire. The lyrics all come from Eliot's Old Possum's Book of Practical Cats, and Valerie Eliot gets royalties of £2m a year on the lyrics.
At the moment it seems nothing will stop this show. The publicity posters declare "Cats - Now and for ever" and their hyperbole is beginning to ring true.
There are already bookings being taken for the last day of this century.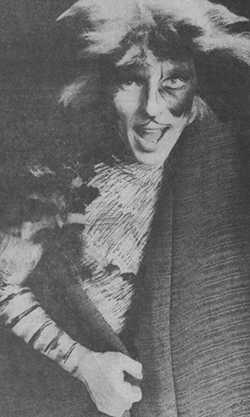 Nearly nine lives:
Steven Wain joined Cats eight years ago
Geordie Greig, Arts Correspondent