Stage-struck and hopeful
Georgina Brown looks at the perils of a childhood spent in the spotlight
Backs to the black curtain like victims for the firing squad, 450 children were lined up, 10 at a time, and asked to sing "Happy Birthday" in one shaky chorus.
Flat little voices strained to pump expression into the words. Plain little faces twisted into contortions that wanted to be smiles. " 'Appy burfdie dear Dievid", droned child after child. The pianist kept up or slowed down to the child's natural pace and did his utmost not to drown even the most pathetic squeaks.
Aged eight to 13, they came with tap shoes shining, jeans pressed, hair ringletted, highlighted, wrenched into top-notches or sprayed into flicks. Occasionally a brush of mascara or lipstick added a grotesque sophistication to their faces.
They had gathered on a wet Saturday morning at the Piccadilly Theatre in central London for an open audition for key children's parts in the musical Metropolis, due to open this spring.
Some had been sent by stage schools or dancing teachers; many had been brought by a parent who spotted the ad in The Stage.
David Birkin ("I'm nearly 11") was sitting in the front row of the theatre with his mother, having recently acted in his first movie. His father, Andrew Birkin, film director, is happy for his son to be a child actor.
"As long as the home life is secure and there are lots of people around to stop a child getting to conceited and to ensure that the child sees it as the charade it is, I think it does more good than harm", he said.
"The danger is that a child can't cope with normality after all the starriness. I tell David not to talk about it at school partly because other children get jealous. But I actually think that children handle it all much better than adults.
"I think David has got it in his blood - and I don't want to encourage it, but part of me couldn't bear the responsibility of standing in his way when an opportunity presents itself".
Leonie Cosman, casting director for Metropolis, leaned forward with a strained smile towards the piping children. She went to stage school herself and acted as a child.
"I always wonder whether the child wants it as much as the parents. If the child is desperate to do it, can keep its feet on the ground, do its homework and not get too starry, then why not? But that's a very rare combination.
"For the child it's very hard work. I remember spending a lot of time away from friends and feeling I was missing out. I've seen children turned into nervous wrecks by ambitious parents. Their education can suffer terribly - and if their acting careers don't take off, then there is nothing to fall back on. It's very sad to set up a child to be knocked down so young".
The strains of "Happy Birthday" mercifully faded. A couple from each group who had a note or two going for them were selected for a recall by the judging panel, consisting of musical director, casting director and assistant director.
Parents and friends cheered the few, and mopped away the tears of the disappointed many. "You're useless", snapped one unsmiling mother to her daughter A few weeks later, the 120 invited back were whittled down to 24. The older boys sang a verse from one of the show's songs and all the children had a stab at acting: pretending they had spotted a wonderful light and walking towards it, imagining the warmth. Some just managed the walking: others threw themselves into the exercise with confidence and imagination.
For Metropolis, the priorities were to find "natural" children rather than stage-school groomed ones, and children who would look right in a group of five. For practical considerations, it was unlikely they would choose a child from, say, Devon, because of the cost of travel and accommodation. The costs for the child are hard to evaluate.
Jane Asher, one of few for whom child-acting lead to a happy and successful career, "certainly wouldn't do it to my children". One of her earliest and most miserable childhood memories, she said, is of her mother driving away, leaving her on location. "It's terribly damaging to fail an audition in front of all your friends at seven. You worry that you look wrong, that your feet are too big. And when you get it, it's even worse - winning over your fellows is very bad.
"Acting was terrific fun, but you're in a grown-up world and it's a bug - a real addiction that is hard to drop".
But some children get that addiction early. Jean-Paul Pfluger, 11 years old, a charming, sunny fellow with a chipped tooth and big characterful smile saw Bugsy Malone at the age of five and pleaded with his parents to let him do drama lessons. He was spotted as soon as he appeared with Worthing Operatic, and then cast in Oliver at the local rep and has worked every year since. His mother, Coral, a hairdresser, says she is amazed her son has talent: "He's just a bright, average kid who can sing and dance quite well. His approach is very mature and philosophical - he's an eternal optimist and thinks he'll get every part he tries for. Of course he doesn't, but the only time he's been dispirited was after five or six recalls for the lead in Woof.
"Having seen him on stage and seen every part of his being having a good time, I have to let him do it. But unless a child gets an awful lot out of it, it just isn't worth it".
Isabel Roberts, a semi-professional singer, admits that her sturdy and rather serious 10-year-old son, Oswald Bailey, needed a lot of coaxing to get to his first audition, after she spotted an ad in The Stage for children with an Oriental appearance to appear in South Pacific. Ozzie is of mixed West Indian race, and he got the part.
"He's got a very good ear and a loud, clear singing voice and an effervescent personality. I was trying to nudge him without being too pushy - I want him to think it's fun. He's very good at it and it's a wonderful opportunity for him - but I won't necessarily be disappointed if he doesn't choose it as a career. He wants to be Michael Jackson at the moment, so I tell him that this will help him on his way to that".
When South Pacific toured to Manchester for a fortnight, Ozzie, then eight, lived in a 5-star hotel and was brought back to London to spend just Christmas Day with his family.
She's considering sending Ozzie to stage school, "though I don't want him to turn into one of those cute, affected, packaged kids. He's a north London boy and I don't want him to be any different. Nor does he. He was really cross when I got the local paper to do a story about him getting the part in Metropolis - but publicity is good for him and I thought it would be nice".
At the final recall the children were thanked for coming along. "Some of you will be hearing form us very soon, the rest of you mustn't be disappointed. We've put you in the fridge. If the show is a success and we need to recast, we might be in touch".
Jean-Paul Pfluger had made it, though he did not know. So had Oswald Bailey. The children left, some frozen with disappointment: 10 years old, and already in the fridge.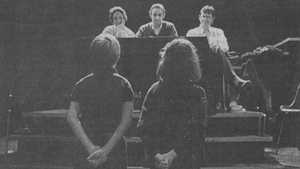 Auditions for the musical Metropolis:
success for the very few is offset by the heartache for the many
(Peter Macdiarmid)
Source unknown