Scaling the musical ladder
Judy Kuhn, a slender New Yorker with a huge voice quite out of proportion to her fragile-looking figure, should have made her West End debut this week but now has to wait until Wednesday.
That is the new day set for the arrival of the first of the year's big musicals when Jerome Savary's stage version of the Fritz Lang movie Metropolis opens at the Piccadilly Theatre.
A week's delay might suggest trouble, but a visit to an early preview proved the opposite. I predict the £2.5 million show will be a long-running hit which, like Les Miserables, will exist more on word-of-mouth than critical recommendation.
Ralph Koltai's sets - space-age sleek for the City and an Orwellian industrialised nightmare for the Underworld - are stars in their own right.
The first night postponement was ordered after a three-day power cut wiped out the lighting and brought the mobile sets to a standstill. Miss Kuhn and the rest of the cast held their nerve and remained unfazed.
"It meant we had a little extra time to work on it and you can always use that", Miss Kuhn said.
British musicals have been good to this 30-year-old as she played Cosette in the Broadway production of Les Miserables for a year then beat Elaine Paige to the star role in Chess in New York, though the show was short-lived.
She has been brought to London for the double role of Maria and Futura in Metropolis by producer Michael White in an exchange deal with American Equity which takes Margaret Tyzack to New York in Lettice and Lovage.
Adventure
"I had not seen the film when they first approached me but I got a video and you could see the potential it offered as a musical with its story of adventure and love. It's not often you get the chance to play the West End and be in a different theatre community with people from a lot of different backgrounds, so I said Yes".
She has moved into a South Kensington flat where she is running up a healthy phone bill calling her boyfriend in New York - "he's arriving next week, thank goodness" - and making friends with London's taxi drivers.
Miss Kuhn and the 40-strong cast do a lot of clambering around the multi-levelled constructions on stage, which might have intimidated any but the brave. "There are a lot of 30ft ladders to run up but we've learned to make friends with the set. I think we're all looking forward to Wednesday now".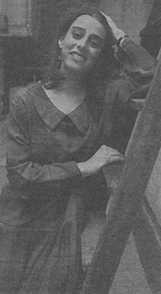 Judy Kuhn: a transatlantic swap
Evening Standard