Legal threat as power cuts disrupt show
The producers of Metropolis have threatened to sue the London Electricity Board for up to £50,000 in lost earnings after power cuts forced them to cancel two performances.
Furious patrons were turned away twice in less than 24 hours after workmen repairing nearby wires cut the lights on one evening and one matinee show at the Piccadilly theatre last week.
Angry company producer Jo Benjamin told The Stage that some customers had gone to the day time performance after being turned away the previous night. Now the Metropolis company has taken legal advice about how to recover its costs from the LEB.
"The two performances cost us a great deal in box office takings. Many of the Tuesday visitors included casts from other shows who wanted to see Metropolis", she said.
The evening cancellation is not the first time the show has been interrupted by repair works. It's opening night had to be postponed too, said Benjamin, after technical rehearsals were stopped earlier.
An LEB spokesman said the board had been informed that Metropolis could press for compensation and the electricity company would examine the complaint.
"Hypothetically, a company can try to sue the LEB in certain circumstances. We will be investigating this ourselves to check whether we are liable or not", he explained.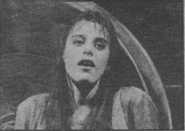 Metropolis to sue after 'lights out'
Brian Attwood, The Stage