Modest Mary in the lead
A new Maria leads the workers' revolt in the West End musical Metropolis tonight in the slightly surprised person of Mary Lincoln.
"I heard the girl before me at the final audition when it was down to just four of us", says the South London actress, "and I would have given her the job straight away".
She was surprised to have got that far. At her first audition she was stopped halfway through a rendition of The Eagles number, Desperado. But she was recalled. It was the song and not the singer that was wrong.
The role, in which she succeeds American Judy Kuhn, marks Miss Lincoln's West End debut if you discount a one-liner she once had to deliver as the maid in Call Me Madam.
She got her first job in theatre eight years ago with the Spectrum Children's Theatre then based in Cambridge after taking a degree at Birmingham in Music, Drama and Dance.
Best known for a nine-month stint in Crossroads as the ill-fated Joanna Freeman who ended up in a clinic in Switzerland, she says: "Whenever anybody asks me what I do, I start rattling off a list of plays and musicals.
"If they look blank I mention Crossroads. Either their faces light up or I give up completely".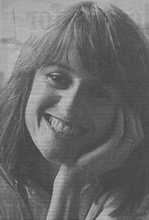 Smiling through:
Mary Lincoln confidently awaits her West End debut
(Picture: Alison McDougall)
Robin Stringer, Evening Standard