Barnum ringleader to haunt the opera
Actor Michael Crawford has turned from ringmaster to phantom.
The current star of West End's Barnum is the surprising choice to play the lead in Andrew Lloyd Webber's latest £2,000,000 musical blockbuster. The Phantom of The Opera.
He will star opposite the composer's wife, Sarah Brightman, in the musical version of the classic chiller, due to open in the West End on October 9.
Mr Crawford, 44, famed for his portrayal of the dim-witted Frank Spencer in TV's Some Mothers Do 'ave 'em, moves to the title role just a month after his final curtain-call for Barnum.
Michael Crawford said he regards the role as "a challenge".
"Physically, it will be a rest after Barnum, but it will be very demanding and the characterisation will take a lot of working out", he said.
Asked if the public would see a different side of him, he remarked: "I don't think they are going to see me at all - I am playing it with a dustbin-liner over my head as far as I can work out".
Mr Lloyd-Webber said today that the choice of Crawford "may be surprising but it is certainly the right one".
He said: "Michael has a very fine voice".
"He is looking for a role in which he can use that voice and also his maturity as an actor - he is a very fine actor".
Both he and director Hal Prince were "terribly thrilled".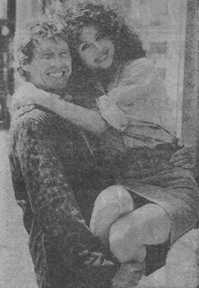 Phantom unmasked: Michael and Sarah today
Lynda Murdin, The London Standard, 27 May 1986