The Phantom springs to life
Michael Owen behind the scenes of London's most eagerly awaited new musical
---
Andrew Lloyd Webber has brought in a new collaborator for Phantom in 25-year-old Charles Hart who has provided the lyrics to fill out Richard Stilgoe's book of the show. But they played a rotten trick on him.
Young Mr Last was discovered in a competition run at the Barbican. He was sent a couple of musical tapes to provide the words for and it was only when he returned his results that he received a phone call saying: "My name's Andrew Lloyd Webber, I wrote the music you were sent and I want you to write for Phantom".
---
It was 11.15 on Monday morning when six steel wires tightened on a chandelier on the stage at Her Majesty's Theatre and hoisted it into the roof of the theatre.
The Phantom of the Opera had arrived in the West End.
Andrew Lloyd Webber's new £2,000,000 show is the musical event of the year and amid the buoyant rehearsals I attended this week the only nervousness shown in the production team was that expectation might outstrip the show's actual achievement.
I doubt it. Phantom will reveal Lloyd Webber in a new, more mature mood, removed from the world of rock opera in opera itself.
It is a richly romantic piece with luscious melodies punctuated by the drama and tensions of the story set in, below and above the Paris Opera House.
For a month the 32-strong cast and 28-piece orchestra have been rehearsing in halls across London but this week they were brought together for the first time for the final run-in to the October 9 first night.
Haunting
There were cheers when they saw the chandelier make its journey into the roof for the first time.
That voyage is the opening scene of the show but the chandelier also has to crash down onto the audience just when you least expect it.
Quite how is a closely-guarded secret.
Another is how Michael Crawford will present himself in the title role of the Phantom, but he will certainly be unrecognisable.
Artist Chris Tucker, who designed John Hurt's monstrous make-up for The Elephant Man, has been brought in to create a mask of disfigurement for Crawford which will take the actor two hours to achieve before every performance.
Crawford is already almost a lonely presence haunting the circle and backstage areas during rehearsal as his scenes are either on his own or with co-star Sarah Brightman.
Miss Brightman, otherwise Mrs Lloyd Webber, is on stage virtually throughout as the young soprano, Christine, raised to stardom by the enamoured Phantom but at the cost of losing her other suitor, the nobleman Raoul.
With just over three weeks to go to opening the chaos in the theatre looked threateningly out of control on Monday; not only does the complex show have to be fitted and fine-tuned on to the stage, but the theatre's bars and foyers are also being refurbished for the production's arrival.
Gothic angels, gargoyles and statues frame the stage to give the ornate richness of the Paris Opera House but the corridors are still choked with builders' rubble.
Surrounded by his production team, including designer Maria Bjornson and choreographer Gillian Lynne, director Hal Prince - working with Lloyd Webber for the first time since Evita - took the best part of two days to complete the show's first technical run-through.
Glasses characteristically perched on his bald head, his New York rasp was constantly forcing the pace - "If we can't get this right NOW we might as well all go home" - as he made a dozen decisions an hour which will affect the show's shape and look.
Before him a series of stunning stage pictures unveiled themselves as rich cloths were swept aside to reveal a cod opera based on Hannibal in preparation; there was the dark surface of the subterranean lake and the Phantom's lair, then gantries to take us on to the roof of the opera house.
It was not until the end of the first day that Lloyd Webber bothered to look in on the activity and immediately emerged: "Redundant again. I'm obviously not required there so we might as well go somewhere else".
We adjourned to his office suite above the Palace Theatre, which he owns, to listen to tapes of the score, including a single of a ravishing ballad, All I Ask of You, sung by Miss Brightman and, just for this record, Cliff Richard.
The story of the Phantom goes back four years when Lloyd Webber and producer Cameron Mackintosh, after their collaboration on Cats, decided they would work together on another musical but one which took them nearer to true opera.
It was not until a February morning in 1984 when mackintosh was lying in his bath that Lloyd Webber rang up for a gossip and casually mentioned The Phantom of the Opera.
Mackintosh: "I just thought it sounded a jolly good wheeze at that stage. Andrew resisted committing himself to it all that year until he had read and reread the book.
"Then we decided we would do it and stage it properly at his Sydmonton Festival in '85. Once we did that we knew we had something theatrically very exciting."
Lloyd Webber: "I knew I wanted to write a big romantic score, something in the direction of Rodgers and Hammerstein. Phantom had the potential to be a great operatic love story. I knew it was the only subject that suited what I wanted to do.
Outrageous
"It felt right for me to be moving towards the more melodic side and after some of the more outrageous experiments we have tried in the theatre I feel that I have found my home".
Lloyd Webber's input into any of his projects goes way beyond his duties as composer. He attends to every detail and in the case of Phantom was responsible for casting his wife and Crawford in the lead roles.
He said: "Sarah is unusual in that she has the ability to both sing and dance this thing. She's sung at the Met in New York and danced through Cats, so she can't be all bad.
"But she had to convince Hal she was right as he didn't know her work until she sang in New York.
"It was Sarah who gave me the nod about Michael. They both share the same singing teacher. We had dinner together and outlined the show to Michael. It was when they both sang together that I knew they were right".
Lloyd Webber, now 38, has been concentrating on Phantom since he finished his Requiem in March last year. There has been only one distraction, which brought about his reunion with lyricist Tim Rice.
Together they wrote a concert piece about cricket which was given at Windsor Castle to celebrate the Queen's 60th birthday.
He said: "It's something we might develop in a small scale way like we did with Joseph. But I think there might be something else which will be our big comeback number".
'Some people would kill for this part'
The new face in the Phantom company belongs to an unknown American who has arrived by a circuitous route to make his London stage debut in the important role of Raoul.
His name is Steve Barton, he was born in Arkansas, raised in Texas but when the call of theatre came he did not follow the natural path towards the bright lights of Broadway but chose to make his career in Europe.
He has worked constantly for the past eight years in theatre in Germany, in shows like Superstar, Evita and Cats.
It was director/choreographer Gillian Lynne who spotted his potential and when Barton happened to be holidaying in London with Ms Lynne and her husband during the auditions for Phantom it was she who sent him along.
Mr Barton, a tall, good-looking 32-year-old, is aware he is staking a step into the big league by joining the new show but tries to defuse the pressures his sudden elevation brings along.
He said: "I know there are people who would kill to get the opportunity I now have. Because of the amount of work I have done in Germany I feel ready for the challenge but I'm trying not to make it seem too big a deal".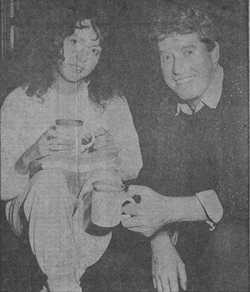 Rehearsing and rehearsing:
Sarah Brightman taking a break with Michael Crawford
(Pictures: Roy Jones)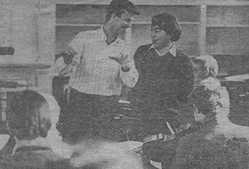 Music director David Caddick with Andrew Lloyd Webber
| | |
| --- | --- |
| | |
| Hal Prince | Steve Barton |
The London Standard, 19 September 1986