Who was that masked man?
Debbie Voller grills 70s rocker Steve Harley about his involvement with the new Andrew Lloyd Webber musical, The Phantom of the Opera
He gave us musical extravaganzas like Jesus Christ Superstar, Evita, Cats and Starlight Express, and now he's presenting a fiendishly clever new show!
We're talking, of course, about music maestro Andrew Lloyd Webber and his latest project - The Phantom of the Opera - a spectacular spectre with more than a ghost of a chance surely! (You're fired - Ed).
The title track's sung by Sarah Brightman and 70s rock star Steve Harley whose band Cockney Rebel are perhaps most famous for their number one hit 'Make Me Smile (Come Up and See Me)'.
"Mmm, Andrew Lloyd Webber and I do sound like strange bedfellows don't we?" Steve admits, "but anyone who's seen me on stage will know that I've always been a theatrical animal.
"It was Mike Batt (of Wombles fame) who suggested that I sing on The Phantom of the Opera single (Mike produced it) and I had to audition at Andrew's home.
"I don't mean to boast but after only singing one verse he told me I'd got the job!
"I don't know whether I've got the part of the Phantom on stage yet - but it'd be a terrific bonus if I was asked".
Wacky film director Ken Russell (Tommy, Altered States) made the moody Phantom video with Sarah and Steve. Does Mr Russell seem as manic in the flesh, we wondered, as you'd imagine him to be from his films?
"Not a bit!" Steve smiles. "No, he was exactly the opposite, terribly friendly. Though I must admit his work does give the impression that he lives on another planet!"
So how does Steve think the audience will react to The Phantom when the curtain finally goes up on him?
"Well he's badly disfigured and very ugly and repulsive by conventional standards, so they'll be scared of him - but - he's also a genius composer who's been 'done wrong' so he's in a position to win lots of sympathy".
"The thing is, The Phantom of the Opera isn't a horror story at all, it's a romantic thriller, it's Beauty and the Beast, it's boy meets girl!"
And as a final point of interest - did you know that Cockney Rebel's song 'Come up and See Me' was recorded by Duran Duran as the B-side of 'The Reflex'?
Well it was, and it gave Steve a chance to get back in the limelight.
"I knew they were gonna do it because they asked me to perform it with them on stage. I'd been very quiet for four years helping to bring up my children, and I was glad to be up there again. I think Duran are a good band. They deserve far more respect than their fellow musicians give them ...
"And besides, the royalties helped pay our mortgage for a few years!"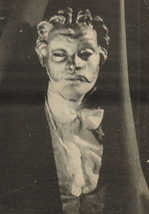 Steve Harley as the Phantom steps out into the limelight
Number One magazine