Maria comes out of her shell
A star ... but Lloyd Webber girl says: No champagne for me
Andrew Lloyd Webber's newest and youngest prodigy was sipping tea today to celebrate her first night as a West End star.
"I never drink alcohol, so champagne would have been wasted on me", said 17-year-old Maria Hyde, who has stepped into the spotlight from second understudy in Starlight Express.
The new Pearl in Lloyd Webber's musical on roller skates was facing the sudden acceleration in her fortunes calmly. "I don't think I've really taken it in yet", she said.
Maria joined the cast a little over a year ago as second reserve to Stephanie Lawrence, another grasduate of the Lloyd Webber starmaker school.
When Stephanie left, the role of Pearl went to the first understudy Kim Leeson, a former Hot Gossip dancer.
Within a few months Kim had fallen in love with co-star Mark David and they left to get married.
For Maria, it is literally a dream come true. "I suppose I used to dream about something like this happening but never imagined it could. It is the most exciting time of my life", she said.
School
Maria lives with her parents in Woldingham, near Redhill. They run a photocopier business. Their daughter has always had her sights fixed on the stage.
She joined the Italia Conti stage school aged 10 and soon had a part in Annie at the Victoria Palace, just across the road from the theatre where she is now starring, the Apollo, Victoria.
More recently she has played Cinderella in pantomime and appeared in the BBC television series Grange Hill. She left school in 1984 to join the Starlight cast.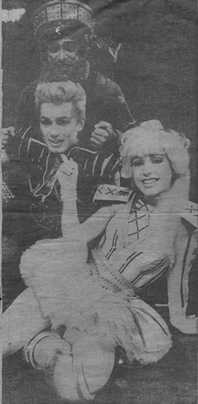 ON THE STARDOM EXPRESS: Maria with Drue Williams (centre) and Koffi Missah who have leads in the show. (Standard Picture: David Rose)
John Walker, Evening Standard