Theatre cat Polly loses her ninth life in exile
Polly the cat, whose sensational sacking from the Apollo Victoria theatre caused a major backstage row, has been knocked down and killed by a car.
Her death came only weeks after she was banned from the theatre by new manager Stephen Murtagh and exiled to the country.
Staff who rebelled at the firing of their favourite moggie warned at the time that a town-bred cat would be at risk outside the world she knew. Now their fears have been proved true.
She was killed on the road after being taken in by building foreman Stewart Budd from Redhill, Surrey, who became friendly with her when he was working at the Apollo.
Today an emotional Mr Budd confirmed that Polly had been killed, but was too upset to discuss the accident. "I don't want to talk about it. It happened a couple of weeks ago. We are all very upset", he said. Nine-year-old Polly became the darling of the theatre staff when she moved in after technicians rescued her and her sister Victoria as kittens. They had been tied up in plastic bags and thrown into a pond.
She settled in well, but tragedy continued to dog Polly's life, despite the friendship of stars and a safe billet under the rafters of the 60-year-old art deco theatre. After Victoria's death last year Polly patrolled the theatre alone, keeping down the mice and chasing the occasional pigeon out of the roof space.
But in June her days as a thespian feline were ended when Mr Murtagh said she had to go - because of new health and safety laws. Because of the amount of food and drink stored in the theatre he had been advised not to keep the cat.
Unfortunately for poor Polly, the decision proved to be a death sentence.
No one at the Apollo Theatre was available for comment.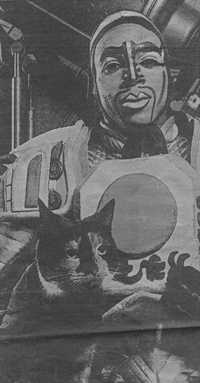 Polly with Starlight Express star George Canning at the Apollo Victoria
Kathryn Bonella, Evening Standard, 13 September 1993