Starlight Express reaches 4,000 milestone
Magic musical gets its skates on for Las Vegas
As Starlight Express celebrates its 4,000th performance, it is the second longest-running musical in British theatre history and the first British musical to be show-cased on the Las Vegas stage - where it opened last month.
Yet, when composer Sir Andrew Lloyd Webber first announced he was going to write a musical about trains racing from different countries, many people wondered if he had gone off the rails.
But as with everything Lloyd Webber touches, his vision has been proved correct and his spectacular show with young people on roller skates excitedly dashing around the auditorium soaring above theatre-goers' heads is still a runaway success.
Apart from Stephanie Lawrence, who had onced played Evita, pop singer P. P. Arnold, Frances Ruffelle (Les Miserables), Lon Satton and Jeffrey Daniel, the 33 people in the company were unknowns.
Several had never been in a theatre and were recruited for their skating skills.
One actor, Drue Williams, was a carpenter until he was snapped-up and another girl was a receptionist at an advertising agency.
"All we had to do was find people who could sing, dance, act and skate and preferably all at the same time", Lloyd Webber pointed out.
A team workers, under the direction of Lloyd Webber's favourite designer John Napier, gutted the Apollo Victoria Theatre, and installed roller coaster skating tracks around the back and through the stalls and even around the edge of the circle.
Trevor Nunn provided the exhilarating direction and Hot Gossip choreographer Arlene Phillips was called in to mastermind the slick and intricate routines with the cast dressed in dazzling body-hugging costumes.
Starlight originally cost £2.25 million to produce and, like Cats, the show came from a book Lloyd Webber had liked as a child 0 the railway stories of Rev W Awdry - and he collaborated with entertainer Richard Stilgoe on the lyrics.
"There is a romance about trains and there is a natural rhythm about trains which suggests music", said Lloyd Webber.
"Starlight is nothing other than fun with a tiny heart of gold among all its trappings".
He gave the show a £500,000 revamp in November last year, adding five songs to new orchestrations and a simpler story-line.
Now in its 10th year, the show has taken more than £60 million at the box office and been seen by five million people. It has been a major attraction in Germany for three years and the Hilton Hotel, Las Vegas, is being packed out each night as American audiences thrill to a shorter version.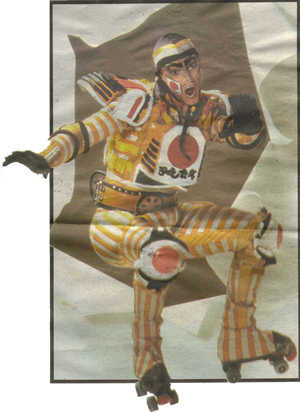 David Wigg, Daily Express, 12 November 1993