The most powerful musical in the world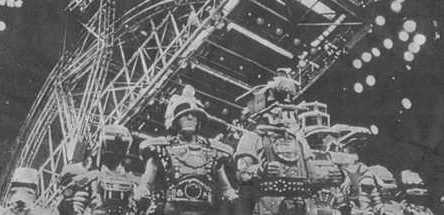 British Rail may be bracing itself for the big sell-off, but nothing can stop Sir Andrew Lloyd Webber's train-spotting musical in its tracks. Trevor Nunn's dynamic production has been shrewdly tightened up, and revamped as it approaches its 10th anniversary next March.
Five new songs, including an infectious rap number and the beautiful ballad Next Time You Fall In Love, adorn the show.
I could quibble about an unnecessary reshuffling of favourite scenes: I would still prefer the show to open with the dazzling impression of the giant lights of an oncoming train that never fails to excite the most jaded child or theatre critic.
The misplaced British Rail joke also seems unworthy of anything associated with our newest theatrical knight.
And yet the energy-level of this homage to the great American musical tradition is as lively as ever. Grease meets Thomas the Tank Engine when boy train gets hitched to girl carriage - or goes off the rails without the love of a good woman.
It's unashamedly nostalgic: we are all rooting for Rusty, the old-fashioned steam train, in his battle against the diesel train Greaseball, while the electric train Elektra is depicted as an AC/DC weirdo.
Surrounded by John Napier's roller skating racetrack, the audience is at the centre of a vortex. It's like an exhilarating night out at a roller-disco. Giant mirrors and video-cameras show you the action behind you if you don't happen to have a neck that can perform a 360-degree turn.
Every musical style is represented here, thanks to Lloyd Webber's talent for pastiche and lyricist Richard Stilgoe indulges himself shamelessly with hilarious puns about coupling in the Country & Western spoof U.N.C.O.U.P.L.E.D.
But it is still a spectacle of a human train-set, whizzing past our heads, that makes it such an unstoppable event.
For Kent postman Alan Newman, Starlight has become a serious hobby. He has seen it 750 times, and estimates he has spent £21,000 on the show writes Andrew Preston.
He even sits in the same stalls seat each time, L23 - "it's just the best place, right next to the track".
His obsession began when he strolled into the Apollo Victoria for the third night of the show. "Now I go at least every Saturday night and sometimes eight times a week when I've been on holiday", says Alan, 31.
He has a collection of memorabilia from the show, but has never been tempted to take up skating: "You must be joking, there's no way you'd get me to do that".
So in his expert opinion, what's the highlight of the show?
"The end is the best bit", he says, "because then you're ready for another go!"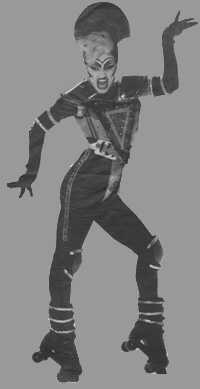 High voltage: Lyndy Oliver is electrifying as Volta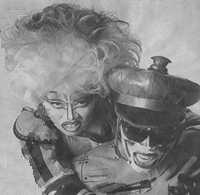 Hair raising: Casey-Lee Jolleys plays Joules and Julian Kannonier is Krupp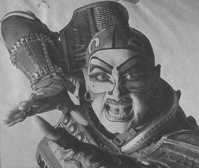 Spark of brilliance: John Partridge sets the stage alight as Elektra
Maureen Paton, Daily Express, 12 November 1993