Tunnel vision
Anyone who has survived a New Age therapy group will be familiar with a game called Trains, in which the leader - we'll call him Andrew - chugs around the room, forcing helpless spectators to tag on to his imaginary engine until no one is left unconnected apart from a cynic cowering in the corner - we'll call him Michael - who prays that the whole thing will crash.
Such long-repressed traumas were awakened in me by the relaunch of Starlight Express, in which 24 otherwise innocent Equity members skate around the Apollo Victoria, pretending to be trains in order to induce a similar state of desperate jollity.
Judging by last night's ovation, they succeed ... although I soon yearned for the sidings.
The plot can be dealt with perfunctorily - which is, after all, what its authors do. It's that familiar story: steam engine meets carriage; steam engine loses carriage; steam engine and carriage get hitched. In between steam engine out-runs modern railway technology and learns a sentimental self-help lesson from an ancient locomotive (cf Old Deuteronomy in Cats).
If memory serves me correctly - and the original is not a night that has lingered - the five new songs and revised choreography have altered neither the balance nor style. As before, the chief success is that of designer John Napier, who has taken Orson Welles's dictum that the RKO studios were "the greatest electric train set any boy ever had" and applied it literally to the theatre.
On the other hand, Andrew Lloyd Webber's music is basically over-amplified and under-powered. As always, it is at its best in parody, whether of country and western (u n c o u p l e d) or gospel (light at the end of the tunnel). Richard Stilgoe's lyrics squeeze every possible pun from the human engines, but fail in the romantic ballads.
If nothing else, the show must be the fastest in London, but the repetitious races soon become wearing and Arlene Phillips's thrusting choreography displays the imaginative invention of an aerobics workout. The cast impresses most for its athletic prowess, though Tintin-lookalike Greg Ellis, Bunteresque comic Graham Martin and rich-voiced Lon Satton stand out.
While The Rink, Into the Woods, and Grand Hotel closed, this has lasted nearly nine years. And yet, in the great train journey stakes, far from being the Orient Express, it would rank as the Network SouthEast.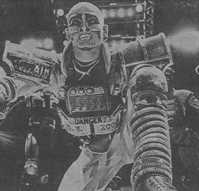 Star rolls: mobile cast of Starlight Express
Michael Arditti, Evening Standard, 24 November 1992