A Transformed 'Starlight Express' Strives Toward Broadway Opening
It started out as a child's fantasy about railroad trains - inspired by a 4-year-old boy's wide-eyed wonderment, written specifically for children and based loosely on the Cinderella story.
But when "Starlight Express" begins performances this week as a spectacularly high-tech production with record-breaking budgets, the new Andrew Lloyd Webber musical will bear about as much resemblance to the original idea as a toy locomotive does to the space shuttle.
Already a success in London, where it is in the third year of its run, the show has been transformed on its journey to Broadway, which cost $8 million and presented a formidable array of obstacles.
"Most people, going to see 'Starlight Express' in New York after having seen it in London, would say, 'My God, they've changed it completely' " said the director, Trevor Nunn.
Despite significant changes in content and presentation, however, most of the show's problems were provided by its technological demands, which necessitated several delays. Preview performances were initially scheduled to begin last Tuesday, were postponed until last Thursday, and then were postponed yet again, with technical difficulties cited as the reason. "Starlight" is now expected to begin previews tomorrow night for an official opening on March 5.
"Starlight" is "phenomenally complex", Mr Nunn said, and many of the potential pitfalls are apparent from even a brief look at the $2.5 million set that has transformed the Gershwin Theatre.
The modest little story Mr Lloyd Webber wrote for his son has now been transposed by the set designer John Napier onto a panorama of all 50 American states, with scenes that range from the Grand Canyon and the Rocky Mountains to the White House and the Brooklyn Bridge - all linked by an intricate array of rail-road tracks.
The set construction used 1,000 feet of fluorescent tubing, 7,000 sheets of plywood and 120,000 pounds of steel, along with 22 miles of fiber optics to provide 10,000 points of light. More than 50 miles of cable connect the network of lights to six computers, with another four computers coordinating sound and scenery. The set also includes a steel bridge that moves up and down, backward and forward, rotates 360 degrees and tilts while serving as a crucial pathway for the 27-member cast, all of whom zoom around the tracks on roller skates, impersonating railroad trains at full throttle.
Imprecision is Danger
Pretty much every square inch of the set has some hydraulic device of one sort or another, and every part connects up with some other part, and it has to be absolutely precise because human beings are travelling around at great speeds on it", Mr Nunn explained. "It's not just a matter of something tilting at the right angle and meeting with the right gate, it's the gate opening at the exact moment that five skaters travelling toward it at 30 miles an hour are five feet away".
The producers of "Starlight" attribute its budget to the cost of creating such an environment. "The only unusually expensive item in this show is in the area of the physical set, the labour to install it and the reworking of the Gershwin to make it fit the show, along with a higher-than-average costume figure and the lighting", said Martin Starger, who co-produced "Starlight" with Lord Grade. "The insurance is high because it's a high-budget show, but it's proportional".
One thing "Starlight's" elaborate set does not include is the main feature of the London production, in which the audience was completely surrounded by loops of track that encircled the theater, taking the skaters to the back of the house and up to the mezzanine. Because some of the audience was unable to follow the action some of the time, television monitors were provided for those portions of the race that careered out of site.
That entire concept was scrapped for New York. The show's creators justify the reduction in scope in terms of the Gershwin's capabilities and limitations: a much larger stage than was available in London made the extension of track unnecessary, Mr Nunn said, and the steeply raked orchestra made it too difficult, since the skaters would have to climb to high an incline.
The director maintains that improved visibility will compensate for the loss of the set's central gimmick. "When we were in London, I would have said it would be a terrible loss not to have the race going around the audience", he admitted. "But it turned out that people didn't actualy follow the action and say, 'Isn't this exciting - it's all around us!' They watched the television screen instead, so I don't think it's a gigantic loss".
Shift in Atmosphere
The mood created by the set design has shifted as well. "In London we set out to provide an image of a sort of massive adult late-night discotheque", Mr Nunn said. "It was very metallic, very industrial at times in feeling, and there was a rather sinister quality to the opening of the show. All of that took us somewhat away from the original notion of a child's fantasy. So this time we decided to make the visual imagery of the show much more a child's toy-land train set layout, and to include more of that sense that we're dealing with a child's fantas".
The music has also been altered. Mr Lloyd Webber wrote two new songs and reworked the rest of the score for New York, but the music had to be continually adjusted during rehearsals, since the time slots got shorter as the skaters worked up speed on each segment. Looking harried, Mr Lloyd Webber kept running in and out of the theatre to bang away on a piano temporarily stationed in the lounge. "They keep getting faster", he said.
No Message Intended
While "Starlight" may set some records for cost and difficulty in staging, none of its creators are making any grandiose claims for its cosmic significance. "It's not any more content-ful or message-laden than it was in London", Mr Nunn said. "It's not a show that is trying to push a particular ecological belief, or that is urging everyone to recover the past or their childhoods, or that is of some sort of veiled religious significance - although all of those things have been said about it. It's a fantasy, a fairy story, and it's not intended to have the kind of impact that makes people want to go and rethink their lives. It's intended to be a family entertainment of unusual excitement, in the way that Disneyland provides family entertainment of unusual excitement".
At the very least, "Starlight" has provided a stupendously expensive entertainment for its creators. "It's as if Trevor and John Napier have realised all the ultimate fantasies of owning a train set", Mr Lloyd Webber said. "I find it quite amusing that my little train musical, which was written for my son Nicholas, has ended up costing someone $8 million".
Mr Nunn allowed as how he might have felt deprived in this regard as a child. "I had just this one little red engine that had one coach behind it that travelled around in a circle", he recalled. "I suppose I have always envied children who had 17 electric locomotives and a gigantic room-sized layout". Sitting in the Gershwin's balcony, the director surveyed the transformation he and his set designer have wrought upon the theatre. "It's a big train set, no doubt about it", he said with a broad grin.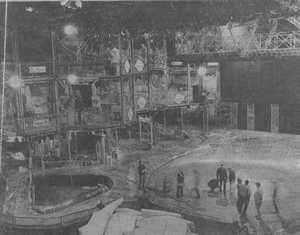 Stagehands working on the set of "Starlight Express",
at the Gershin Theatre (The New York Times/Frank Micelotta)
Leslie Bennetts, The New York Times, 23 February 1987