Express chugs in without a driver
The twice-postponed New York premiere of Starlight Express finally happened amid cheers last night, but with an added note of mystery.
Composer Andrew Lloyd Webber decided to stay away from the event and was at a secret address in France when the show was given its long delayed first night.
There were varied reports on why he had chosen to absent himself from a Broadway first night which he has invariably attended with his previous shows.
Referring to Sunday newspaper reports about his marriage to actress Sarah Brightman, director Trevor Nunn said: "If he has been forced to stay away from an achievement like this because of something in the media, in London, then I think it is a great shame".
Spectacle
A spokeswoman for Mr Lloyd Webber said: "Andrew was here up until last weekend. The work was done, the show was in shape, there was no reason why he should be here".
But for all the feverous reaction from the audience, it was a night like Hamlet without the Prince.
When the critics filed their reviews he was probably pleased to be away.
The New York Times said: "Two numbing hours ... a confusing jamboree of piercing noise, routine roller-skating and Orwellian special effects".
The New York Post called it "a disastrous farrago", and the New York Daily News referred to the score as "Lloyd Webber's usual characterless mush".
But there was praise for the true star of the show, designer John Napier, whose set of mobile ironmongery and a myriad of twinkling lights enraptured the first nighters.
The stage spectacle is hugely enlarged o the London production with the cast skating on serried ranks of ramps, circuits and bridges in front of the audience, rather than around them as in London.
Accompanied by his American wife, Donna, at the first night party in a downtown discotheque, he said: " I reckon this show is about twice the size of the London production.
"We have built in 60 tons of set on to the stage and there must be 10,000 light bulbs working to create all the effects.
"I have been here for five months and as soon as I get home I want someone to offer me a play which needs only two people and one chair".
It was the technology which held up the show's arrival on Broadway even though it is a certain popular hit with more than £4,000,000 already taken at the box office.
Trevor Nunn said: "It was only when we got into the theatre after rehearsing in studios we realised things were not working to specification. Nothing was happening quickly enough or efficiently enough".
Lord Grade, who is co-producing the New York production, said jauntily after the premiere: "It is twice as big as London and it is twice as good. Starlight is here to stay".
Despite the reviews, he is probably right.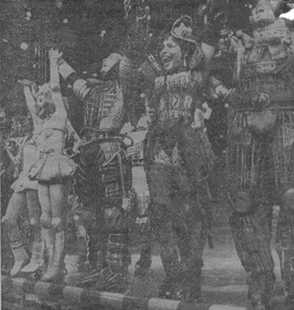 SKATES ON ... The cast of Starlight Express take their curtain call after the show's twice-delayed first night.
Michael Owen, The London Standard, 16 March 1987