A bird? A plane? No, it's wunder woman
The German is coming. Ute Lemper has conquered much of Europe and America and is now turning her eyes to these shores. James Green discovers what we can expect from this one woman invasion
Long-legged and slender, Ute Lemper is so far unknown in Britain. But in Germany she is hailed as 'Fraulein Wunder', while in New York, Vienna and Paris she is being acclaimed, almost inevitably, as the modern Marlene Dietrich.
Stopping off briefly in London on her way to record in Los Angeles an album of her own songs for CBS, Ute (pronounced 'ooter') says she is keen to entertain audiences here. She is planning to present her Kurt Weill concert in Britain this year and if that proves popular then others will follow - including her jazzy Las Vegas style song and dance show.
For Germany to produce an international show business star is a rarity. Among her admirers, impressed with her personality, talent and voice, is Andrew Lloyd Webber.
She is a 26-year-old actress, dancer and singer standing 5ft 8in and with the kind of slim waist that two hands could encompass. Some critics have also compared her live performances with Liza Minelli, Lotte Lenya, Shirley Maclaine, and Ginger Rogers.
Fraulein Wunder, who speaks excellent English, finds it embarrassing to be linked with Dietrich. "She lives in Paris now and as she never comes out nobody sees her. But she must have seen my reviews because she called me by telephone.
"I told her that I did not welcome any comparison because she was such a superstar and a wonderful woman. Whereas I'm only a young newcomer with a rising career hoping to achieve her status", she explained. "She said she would give me some advice: "Remember the most important thing of all is to have great personality. Never mind singing, dancing, or acting well. Personality comes first".
Dietrich also told Lemper the secret of her own singing. How she used special pronunciation with the emphasis on the second or third syllable. That gave meaning to a sentence.
"She told me never to allow career to get mixed up with private life, and to separate them. Much as I respect her mystery, sophistication, and star quality, never vulgar, I don't want to be another Dietrich".
"I want to be myself and I'm still trying to find out where I am going. I do include some of her numbers such as Alone In A Big City in my shows, but not Where Have All The Flowers Gone? or Boys In The Backroom. They are too popular for her".
La Lemper, as the French call her, has obviously accepted the warning to keep her private life just that. She has a flat in Frankfurt for office and personal reasons. She explains warily: "I'm hardly ever there. I'm engaged to an impresario of theatre and shows in Germany and it is possible we will marry in a year or two.
"Then I see myself living in a home in Paris or London. I don't think of myself as a German artist, rather as an international performer with European music and roots. I intend to hang on to that and have no wish to become Americanised".
She was in London for the release of her album, Ute Lemper Sings Kurt Weill, which she also does as a stage recital. Just part of a long career.
"I was raised in the provincial town of Munster", she tells me. "My father is a banker and my mother was an opera singer. I'm a mezzo soprano - yet it was jazz which first inspired me. I practised jazz dance while still at school and sang for a while with a rock band".
She studied theatre at the Max-Reinhardt Seminar in Vienna and music at Salzburg, where her teacher said "She has a strong personality. Nobody can stop her". Lemper was picked for the cast of Cats in Vienna in competition with 200 others, and played a main role 300 times.
Then she starred as Peter Pan in Berlin, and soon after discovered the music of Weill. Before long she was invited to New York and gave sell-out concerts. Paris was next to fall. With the recommendation "she sings like a Broadway star", she played as Sally Bowles in Cabaret and in 1987 won the Moliere Theatre award.
"Liza came to my opening night", she recalls, "and called backstage afterwards. It felt strange to be a German artist playing an English girl in France. The director was courageous in his concept and used large swastikas on stage. Some of the audience were shocked and some even left. But the impact was better than with Hal Prince's conventional production".
Throughout her few years the reviews have raved ... The air crackled with her charisma New York Times ... A real discovery The Times ... She is a new Dietrich Le Nouvel Observateur ... Dancing ability as stupendous as her vocal talent Wall Street Journal. And in Germany ... A dream. She stands on endless legs, has a body so graceful that it turns heads, exudes charm and humour, and her singing and dancing bowl you over, Berliner Morgenpost.
Where is she going next? "I wish I knew. I wake up all over the world and, while that is wonderful, it is unfair always to live in hotel rooms. I did a TV series in Germany and thought it so bad I was ashamed. Now I hate series and will have nothing to do with them.
"For the moment I am working towards a show in which the songs are composed by or for me. I like singing Weill, but operetta doesn't appeal. Next year I'm playing Marie Antoinette in an American-French film co-production. It will be made in two languages and deals with the last two days of her life. So I shall end being guillotined. I'm seeking my own musical style and one day will try some jazz. Or I may be taking dramatic parts in Hollywood films. Already I've learned that audiences can be very different. In Germany they are analytical, the French like emotion and personality, and the Americans demand talent and projection".
The British? "That is what I want to find out", ends Lemper. "I must stop talking as it is bad for the voice. When I'm in musicals I don't speak all day".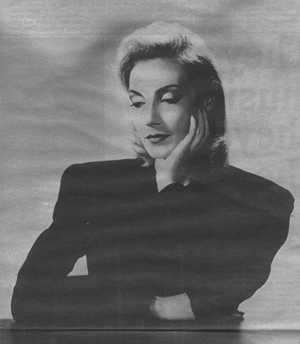 Invasion force: Ute Lemper, embarrassed by comparisons
James Green, The Stage