Anything goes for Paige the producer
Elaine Paige finds the shoe is firmly on the other foot as she changes her usually hefty star salary for the dubious pleasures of producing a musical, reports Cassandra Jardine
"This is the hottest show I have ever been in", Elaine Paige says of her latest star vehicle, Anything Goes, which is previewing at The Prince Edward Theatre.
This opening remark comes with the practised delivery of one who has cranked up the publicity machine for the show with some vigour, whipped on by an ever-present PR man who minds his charge as she entertains journalists in her thick-pile Chelsea home, dressed big-star style in gold-embroidered kaftan.
It is certainly in her interests to hype the Cole Porter revival because, for the first time in her 38 years, she is not only performing in a musical but is also co-producing it. If it fails she will lose face rather than money - producers never risk their own money - but, if it succeeds, she stands to gain more than just her performer's salary.
She was drawn into this management role by accident. When the musical opened at the Lincoln Center in New York in the autumn of 1987, she was passing through. "It was the hottest ticket in town apart from Phantom. After the show I was enthusing about it over dinner with some friends".
They uttered the words that every performer loves to hear - "You could do that part" - and the idea became fixed in her mind.
Tim Rice, with whom her name has long been professionally and romantically linked, was in New York, and between them they decided to take the show to London.
"I didn't really want to produce - all those endless meetings - but I wanted the show to come to London just as it was in New York - same set, same costumes, same feel".
She and Rice formed a company, Anchorage Productions, for the purpose and persuaded Robert Fox to produce with them. Fox had the dubious pleasure of producing Chess, written by Rice and starring Paige; it was his first, and loss-making, venture into musicals. The Lincoln Center producers took a third and smaller share.
She came to the idea of producing with a few ideas gleaned from previous experience. The chief one was economy. Chess had been a lesson. Although it had run for three years, only coming off in March to make way for Anything Goes, it had not broken even. The figures are seared on Fox's mind: "It cost £4,263,000 to stage and we made back 92.5 per cent of it".
Anything Goes by comparison is remarkably cheap. Paige and Rice had to raise £600,000 between them, Fox the same, and the Americans the remainder to make up the budget of £1.5 million. As a replica of an existing show it is bound to be relatively cheap, explains Fox, as it takes less time to put it together, and time is money.
Paige thinks the low cost is also due to the "grocer's shop economics, as Mrs Thatcher would call them" that she applied. "It comes down to silly little things. For example 34 pairs of shoes made for the show were delivered and they didn't fit. We sent them back, they were redone and still they didn't fit. A producer who was more remove from the show might have paid the bill, but I made sure we didn't".
Cutting corners was the rule, but on a few things she did not hold back - her dresses of glossy, spangled, seven-stone figure-huggers - were all designed and handmade by the team that had dressed the New York show.
She even, she claims, held back on her own salary, having in previous productions gained a reputation for making sure that her coach-party pulling power was reflected in her pay. "I had to balance the interests of the producers with my own. I came down in favour of the producers".
If so, then it was a fairly close-run thing: Fox's reaction to this statement is a guarded "Possibly. She may think she did". The sum she veils: "It's very vulgar, all this talk of money", she says, suddenly clamming up, her minder nodding warningly.
The chief role of the producer is not so much spending money as getting it. That proved harder than she imagined. "It's one thing friends saying they'll put money into it, another getting the cheques out of them". She handed most of that over to Rice, who was able to quote to potential angels their encouraging calculations. "It the show is full we will have made the money back in 16 to 20 weeks".
They are very likely to do so, since advance bookings have reached £1 million, according to Fox, and the advantage of having the lead as a producer, being paid a share of the box office, is that, as he says, "she has an interest in staying with the show". Her initial contract is for nine months, with an option to extend it to a year.
The show offers her an opportunity to belt out many of Cole Porter's best songs: I get a Kick Out of You, Anything Goes, You're the Top. It also offers her a part in which she can show off her acting talents. "What I love best is pretending to be someone else. If I can sing too it is even better".
By doing both she can rid herself of the influence of Ethel Merman, for whose rasping voice the show was written in 1934: "Ethel Merman couldn't act, so all the comic stuff was given to other characters".
As Reno Sweeney, the evangelist turned cabaret singer, she has not only to act and sing but to dance, with men who are a good foot taller than she is, which makes even the romantic bits look slightly comic. High heels and a large number of steps help to make up for her small stature on stage; at home she remains curled on a sofa, either out of exhaustion or to avoid being towered over.
So how can Paige be so sure the show is that hot?
"It's the lights", she explains, "it's horribly hot on stage". To retain the authentic Thirties atmosphere of the musical they have used the bright lights and strong coloured gels of the period. "The cast are having to take salt and vitamin pills to get through it. Even so, the musical director who has to conduct the band from the stage has lost half a stone in the first week".
Paige did three months of rigorous keep fit before the start of the six-week rehearsal period to be fit enough to cope with the lights, the part and the 12 costume changes it involves, three of them in under 10 seconds.
The reviews after the show opens on Tuesday will reveal whether it will be the hottest show in town, in the sense that phrase carried when she first saw it in New York.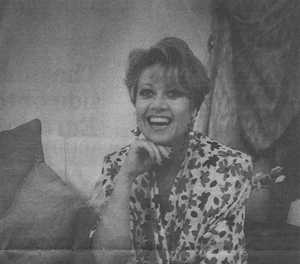 Elaine Paige: 'I didn't want to be involved in production, but I wanted the show to come to London just as it was in New York'